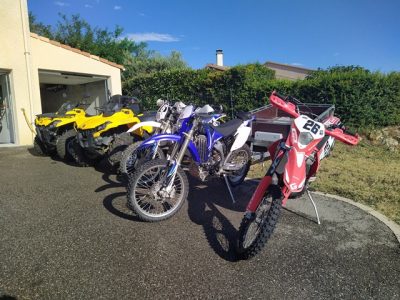 A loyal customer asked us for a friend's birthday to organize a "discovery" day for him on our paths in Ardèche. The two couples had at their disposal 2 Can Am outlander quads and an enduro motorcycle. They took advantage of a sunny day to discover the joys of off-roading. For lunch, they had lunch at the restaurant La ferme de Simondon in Plats. View over the Rhône valley, walk among the vineyards of the Chaban estate … They took full advantage of this day.
You too, come and take advantage of our quad and motorcycle park to escape for a day, a weekend …
Quad rental, enduro motorcycle rental, trail rental, motorcycle rental, exceptional car rental
The group was made up of beginners and a seasoned pilot.