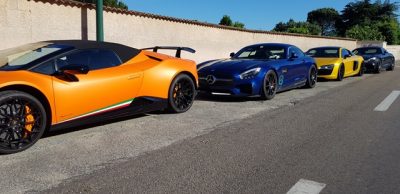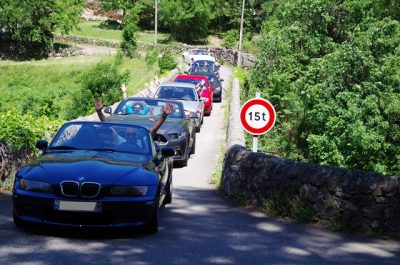 In this period of curfew, we are going to put a little colour in our news. On May 24, after the lockdown, we decided to set up monthly outings for sports cars and historic cars. Thus, every month, we organize a car ride based on friendliness and sharing.
We had the pleasure of having a high-performance Lamborghini Huracan spyder, a prepared Audi R8 V10, 2 AMG GTS, Porsche… and especially the release of the all-new Shelby 350 GTR from a loyal customer who came to do his work before leaving for the Nurburgring. Beyond the exceptional cars, we had small sports cars like a VW golf GTI. The diversity also allowed to have 2 BMW youngtimer, a Z3 3.0 liters and an e46 330 XI. A family, made us the pleasure of coming in Ford Mustang V8 convertible. Thus, all styles and tastes were present for this mini road trip in our Ardèche.
For this first time, we took the roads of the old WRC Monte Carlo rally. The weather was idyllic and given the restrictions, a picnic was organized in the grounds of Château de Craux. A big thank you to the Mayor of Genestelle for allowing us to park the cars in front of the ruins of the Castle. Thanks also, to the farm of Craux for the picnic. We recommend their goat cheese.
Finally, a (moderate) tasting of Cornas and Saint Péray was offered by the Cave Teysseire in Cornas.
This sports car and historical outing represents the state of mind of Hedonist Tour.
Watch the video of the Lamborghini in the middle of the chestnut trees